About us – PassionForColors®
At PassionForColors® we believe that the way we dress is one way of expressing our personality and many of us have a certain need for individuality in that expression. In the Nordic countries we have a habit of wearing dark colors, especially in more formal work contexts. At the same time we live in a partly very dark part of the world. This has triggered my curiosity. Also research shows that color can have a positive impact on our mood and energy level. So, why is this? Why do we stick to dark colors? We do not have to dress in black or grey in order to be professional. There is not any such rule.
Many women I have spoken to mention that it is difficult to find stylish, colorful clothes that work in both the professional and leisure context. This has also been my personal experience, having spent 20+ years of my career in the international business world and having done a lot of my clothes shopping abroad since I did not manage to find the personal, appealing styles I was looking for in Sweden. 
PassionForColors wants to change this. PassionForColors offers a range of unique, classic, stylish and colorful clothes, that work as well in your professional life as in your leisure time. In the Inspiration section of the site we share matching proposals for the different clothes, in different contexts. It is our hope that you will be inspired to wear the personal styles in your professional life, as well as in your leisure time. 
All the PassionForColors styles are designed in Sweden. The elegant jackets and silk blouses are handmade at a tailor shop in Beijing with a lot of attention and dedication going into the creation of each jacket and blouse, and all the colorful details. The rest of the range of clothes is made in Portugal with the same attention to details and craftsmanship of each garment. The classic PassionForColors styles can be worn from one year to the next and in many different contexts.
The PassionForColors range is sold online through this web shop, www.passionforcolors.com to all of Europe. We also work continuously with various sales events. Pls sign up for our newsletter here on the site and follow us on Instagram and Facebook to find out about upcoming sales events. We are also regularly present at different popup stores and market places. Here on the site, you can also find information about in which physical stores we are present. 
Let us inspire you to a colorful life!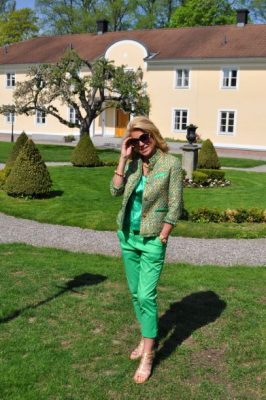 Christina Lindstedt
Founder
PassionForColors®