PassionForColors® talks to women in different countries and in different roles in society regarding the way we dress, why we dress the way we do and what role it plays for us. Time has come to talk to inspiring Vendela Lilliestråle who together with Camilla Lundin is co-founder of Qalora Capital and Businessanddreams, an Instagram community, book club, mentorship program and podcast, empowering and inspiring women in business.

You are a source of inspiration for so many women out there; entrepreneurs and business women. You have different roles; as founders of Qualora Capital, as keynote speakers, motivators, coaches and more. What are your thoughts when it comes to the way you dress and what does it mean to you? Do you follow certain "unwritten rules"? Do you follow different rules in different roles?
The way we dress is important to us. It is a way of expressing our personality and a part of the communication. For us the most important thing is to be ourselves and for us that coincides with being professional. We like a conservative, classic, female yet professional look. We are not into the latest trends and buying and throwing away clothes. For us it is important to have a few high quality, classic clothes in our wardrobe that we can wear for a long time and combine with different things, depending on the context and who we are meeting. We always feel dressed up wearing these clothes. When we work with the investment dimension, we tend to dress in a quite formal way. However, we always wear things we feel are comfortable. We are just not that fond of wearing jeans, we prefer wearing a dress or skirt and jacket.
We believe that women have a big advantage over men since we have a much wider pallet to choose from, both in terms of actual clothes and colors. We can express ourselves in many more ways. We believe that women should not try to look like men. Women should embrace their femininity and dare to stand out and make an impression. We believe that these are the new power symbols. We think that heels are a great power symbol!
What advice would you give to women regarding how to dress in certain professional situations (being on stage etc)?
In our Instagram community we talk about careers, about realizing dreams. When it comes to which way to dress as part of this, we probably inspire through what we wear in the sense that we wear things we like. When it comes to being on stage, our thinking is quite similar as in our daily professional life, but we also aim to make an impression and be remembered. Being on stage provides an opportunity to stretch it a bit and there we have an advantage as women. We both love red and e.g. wearing a red dress and heels on stage. If I would wear a suit, I would put a personal twist to it, like e.g. a tied blouse and heels.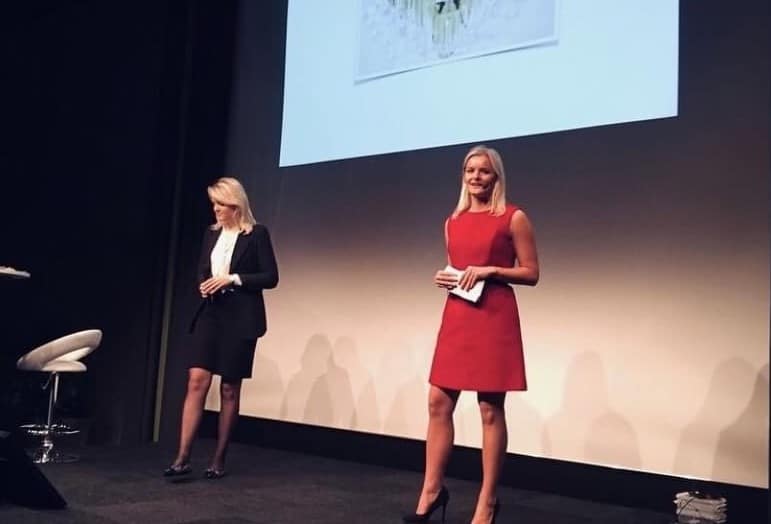 Do you have any awkward memories from when you have dressed for an event? Has it ever gone wrong?
I have not experienced any real disaster. But the other day I managed to break my pants on my way to the office and I could not avoid having a first meeting with my broken pants… Maybe it is a good idea to have some sort of backup clothes at your office.
Who inspires you when it comes to the way She dresses?
Investor Anna Svahn inspires me. She has a classic and feminine style. Also, Ishtar Touailat who wears great dresses and dares to stick out, wearing a lot of red e.g. I also like Camilla Lundin's style which is professional and feminine at the same time.
____________________________________
Stay tuned with the blog section of www.passionforcolors.com for upcoming talks with colorful women. There you can also sign up for our newsletter for ongoing inspiration and information and take a look at our unique colorful clothes. PassionForColors is a fashion brand that offers elegant, classic styles, in unique, colorful implementations. For your professional life and your leisure time.